We all agree that not everyone shows their age to the same degree. The environment, worries, illness, heredity and life are considered defining factors. However, we also know of areas of the world where inhabitants seem to remain ageless and actively contributing well beyond the norm.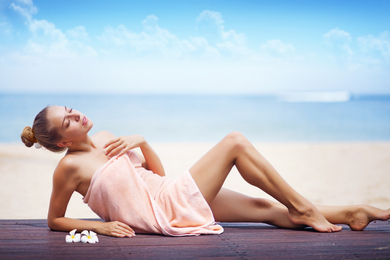 The Segue Skin Serenity Wrap is designed to take YEARS off your skin with special anti-aging ingredients that reduces the effect of the environmental factors effecting your skin, smooth out age lines as well as contour and shape.
Expeditions to China and Ecuador's rain forest by Betty Mahan and Dr. K. Sotomayor of The Research Group, located rare and exotic herbs are used in the Segue Skin Serenity Wrap's solution. Although the formula is a secret, we can tell you the contents include certain key elements already proven successfully in our products plus bio-essences from the new imported herbs.
The challenge and breakthrough came from developing new technology that are to maintain over two dozen separate ingredients fully active, compatible and in perfect combination in the solution. The long awaited result is the most invigorating, healthful, anti-aging process in the world today.